The San Diego Paramedics proudly supports this effort!
Important Public Service Message:
C.J. Norton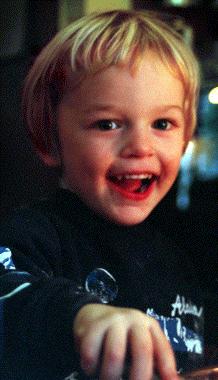 A $50.00 convex mirror may
have save this boy's life!
C.J. Norton, age three, shortly before he
was killed by a "blindly backed"
diaper service delivery truck in 1994
Injuries are not accidents!
Injury prevention is accident prevention.
May 20, 1998
The family of C.J. Norton is asking for your help in spreading the word about a new Washington State law named in his memory: C J's Bill...

Join us in our efforts to save lives. The number of little kids struck by blindly backed delivery trucks is unknown because they occurr on private property and therefore are not included in police traffic statistics. Yet we know many small kids are in danger, especially those whose only playgrounds are apartment parking lots.
The new law requires that all delivery trucks in the state be equipped with rear crossview mirrors of the type developed and used since the early 1980's by Federal Express. The convex mirrors are 10-inches in diameter, cost about $50.00, and are installed on the top left rear corner of the cargo boxes of walk-in, cube style delivery trucks. We ask that you post this message where safety activists and families who have suffered like ours will find and use it to work for similar laws in their states.
Federal regulation will only affect new trucks. Only the states can regulate trucks already in service.
This is where you can help... Start a grass roots effort in your state to get a similar bill passed.
The Nortons are awaiting word from the National Highway Traffic Safety Administration on a petition that the agency require the mirrors or similar devices on all newly built delivery trucks.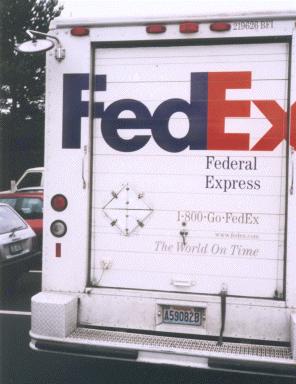 The new Washington State law requires all delivery trucks with cargo boxes up to 18-feet long to be equipped with rear crossview mirrors. These are the round 10-inch diameter convex mirrors seen on the top left rear corner of FedEx trucks.
The mirrors cover an area more than 6-feet deep behind the truck, reflecting an image of that area to the normal sideview mirror used by the driver is is backing the truck . Delivery truck drivers, working under intense management pressure for high productivity, are forced to back blindly because their vehicles do not have rear windows for cargo security reasons. The trucks interior rearview mirrors are useless. Federal Express tested rear crossview mirrors on all its delivery trucks in four hub cities for one year and discovered a 33% reduction in backing crashes. They have since installed them on 36,000 vehicles.
The mirros were developed by K 10 Enterprises and Federal Express in 1983 due to FedEx's substantial backing accident problems. The estimated cost is $50.00 per truck.

Contact K-10 and ask for infomation on The EYEBALL Mirror: 1-800-531-7496
The U.S. Post Office, Airborne Express and several other organizations soon followed FedEx's lead. recently UPS Teamsters pressed United Parcel Services into action as well, citing past tragedies that were preventable. United Parcel Service agreed in the contract that ended in last year's strike to install the mirrors or similar devices by late next year.
Many have ignored the issue or have even opposed efforts to require the back up mirrors.
C.J., 3, was killed on May 18, 1994, by a backing Baby Diaper Service delivery truck while riding his small bicycle, with training wheels, in the parking lot of his parents apartment in Lynnwood, Wa. That tragedy started us on the quest for a state law and a National Highway Administration rule requiring use of rear crossview mirrors. A N.H.T.S.A. (National Highway Traffic Safety Administration) decision is expected later this year.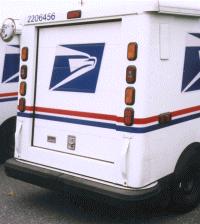 Research shows that children up to the age of 5 have no concept of personal safety and do not understand the warning of backup beepers.

Children from 1 - 4 years old compromise 6 % of the U.S population, yet they represent 30 % of all non-occupants killed. This based on 1995 U.S Census data. At the time of the D.O.T. report, this number totaled 390 fatalities, from off-raod backing crashes. The childhood fatalities were due to the physical stature of the children and their decreased comprehension level. This information was derived from the death certificates recorded by all 50 states, the District of Columbia and the five Boroughs of New York City. Source: National Center for Statistics and Analysis.

Annual Estimates of Nonoccupant Fatalites
in Off-Road Backing Crashes
1992-1993 Average

| | | | |
| --- | --- | --- | --- |
| Age Group | Number of Fatalities | % of Total | % of Population |
| 1-4 | 116 | 30% | 6% |
| All Other Ages | 274 | 70% | 94% |
| Totals | 390 | 100% | 100% |

Annual Number of Nonoccupant Fatalities
in On-Road Backing Crashes
1992-1993 Average

| | | |
| --- | --- | --- |
| Age Group | Number of Fatalities | %of total |
| 1-4 | 14 | 16% |
| All other Ages | 71 | 84% |
| Total | 85 | 100% |
The U.S. Department of Transportation's National Highway Traffic Safety Administration reported these statistics in a February 1997 Research Note entitled "Nonoccupant Fatalities Associated with Backing Crashes." Obtaining exact numbers with this type of crash is difficult, since the Fatal Accident Reporting System (FARS) records data only for fatal crashes that happen on public roads. These statistics, therefore, are an estimate of backing fatalities obtained from the National Center for Health Statistics (NCHS), which tabulates data on the cause(s) of death shown on individual death certificates.

Contact The National Center for Statistics and Analysis
The D.O.T. estimated in two research documents that 300,000 crashes a year are on private property, such as an apartment complex parking lot in which C.J. was killed. This data are is collected by local police agencies for their annual statistical reports. The report indicated that it is unknown as how many of these crashes involved small children or disabled and elderly citizens. They estimated that 1.4 % of those victims are small children, adding that they are the most vulnerable to serious injury or mortality.

20 youngsters have been killed in the United States this year (2002) as a result of backing accidents. 216 chidren have been involved in such accidents since 1993 with 193 deaths. In the early 90's the number of backing deaths were were less than 10 per year. In 2000 there were 38 and in 2001 there were 69. This is most likely due to the common use of minvans and Sport Utility Vehicles with limited rear view visability. The sad factor is that some of the kids killed were crushed by vehicles driven by their own parents as they played in the area of the driveway at their home!


How many more innocent children have to die to get this message accross!!!
The Nortons have compiled a large amount of information we will provide for free on floppy disks to safety activists and families working for similar laws. The Norton family has now scanned and copied onto two floppy disks, in the Word format, the information they used in their three-year lobbying effort in Washington
. They can send you copies of the disks for free if you contact them.
Please help...
Thank you in advance,
For more info, plz go here!!!

Road Injury Prevention & Litigation Journal
Supporters include:
Dee W. Norton
13216 35th Ave. N.E. Seattle, Wa. 98125
Telephone: 206-362-6593
FAX: 206-361-6567
Email: deewrite@earthlink.net

The National Safety and Health Committee of the International Brotherhood of Teamsters

The American Academy of Pediatricains
The Oregon Department of Transportation
The Washington Traffic Safety Commission (360) 753-6197
The San Diego Paramedics
Please contact us via
.
Music on this site is best experienced with the Crescendo Midi Plugin.
Streaming Crescendo is paid for by this site's administration.



Get your free version here!
---
Web page design and maintenance by Mitch Mendler E.M.T. Paramedic FireFighter;The WebMaster!