The California State Firefighters'
Steamer Team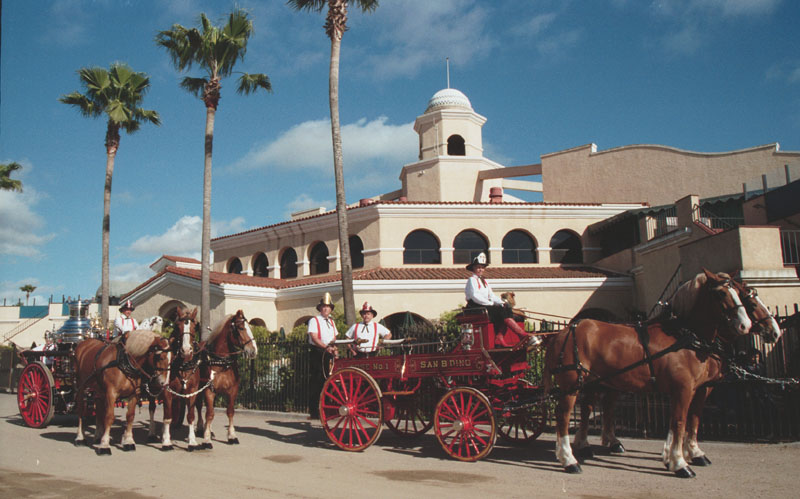 CSFS Steamer Team
and
The City of San Bernadino Historical & Pioneer Society Hose Cart

| | |
| --- | --- |
| Steamer | Wagon |
| Driver: Gene Hilty | Driver: Sioux Munyon |
| Fire Fighter: Dave Hubert | Fire Fighters: Allen Bone & Steve Shaw |
| Dog: Blaze | Dog: Maverick |
| Horses: Luke, Rocket, & Jimmy | Horses: Jay & Jiggs |
Music on this site is best experienced with the Crescendo Midi Plugin. Streaming Crescendo is paid for by this site's administration.



Get your free version here!
"Control panel for"
"Midi File Juke Box provided by Cresendo"
"Original Midi Files" background music is copyright © 1998 by Camco's MidiCentral, all rights reserved, used by permission.
The C.S.F.A. Steamer Team
Shown thundering down the street recently in a photo shoot, our newly restored steam engine no doubt, felt right at home!

Serving the City of Reno as Engine # 1 for over 20 years, this powerful fire engine, its dedicated firemen and loyal fire horses proved to be the right tool to combat the terrible fire that ravaged our early wooden cities. Known as "Reno # 1" it was built in 1920 by the American Fire Engine Company of Cinicnnati, Ohio. This 9000 lb. engine could pump 1000 gallons of water per minute and cost the city $5353 when new.

Retired in 1922 from Reno, it served the Southern Pacific Railroad for a short time protecting the Sierra snow sheds. The engines history was lost until 1990, when the Hubert Family found it in a barn in Fallbrook California.

Thanks to the support of the California Sate Firefighters' Association (CSFA), this engine is restored to its original glory. Today, thanks to our sponsors, Reno # 1 travels throughout California in the interest of fire prevention education, and preserving our history and fire service heritage.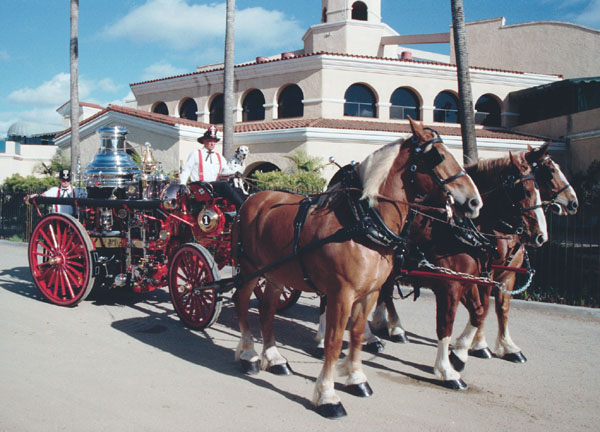 The C.S.F.A. Steamer team is owned and operated by Dave and Barbara Hubert of Coto de Caza and sposored in part by:
California State Firefighters Association
California Casualty Insurance

For more information contact the Huberts via Email or @ (949) 589-2444

OR: visit this site

CSFA Steamer Team


This public service information was brought to you by:
The finest Paramedics in the world and on the W.W.W. from America's Finest City...

http://www.publicsafety.net/sdpar.htm
Brief Disclaimer.