World Memorial ®


Navigation Menu Below for non FLASH oriented browsers or operating systems...


Keeping the
memories alive
Honoring American Heroes
Honor | Pride | Respect | Dignity | Courage
The Land of The Free and The Home of The Brave
UNITED WE STAND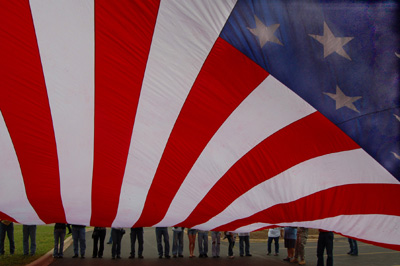 Click to Enlarge
"Photo courtesy : Mitch Mendler"




The Flag will be shipped by FedEx as a major sponsor of this project at no cost.

We would like to acknowledge FedEx and U-Haul for their commitment and support of this project and our dream of having this symbol of freedom tour the country. They have proven to be true patriots and without their support,
we would NOT be successful.

| | |
| --- | --- |
| | |
The FLAGS (30 X 60 foot - 50 pounds) (20 X 30 foot) will tour the United Sates in honor of American Heroes.
We also send the U.S.A. State Flags and U.S. Territories and Armed Forces Flags. They represents the resolve of AMERICANS and our quest to live free.
A message is conveyed: WE STILL STAND UNITED AND WE ALWAYS WILL.

They ship with all of the hardware and rigging needed.
As the flags criss crosses the country, hosted by Fire and Police Departments, American Legion Posts and PATRIOTS,
the flag will honor the men and women on the job today protecting the citizens they serve.

On 9/11/12 we are planning to repeat what we accomplished on the Ten Year Anniversary with The Patriot Flag.
We will display - fly the flag in all 3 cities that were attacked in one day in just under 18 hours.


After the 11 year anniversary, all of the flags will visit each state captitol durring a 50 state 50 week tour.

The final display to be announced.


The flags as well as all of the flags The WORLD MEMORIAL flys are Made in The USA.
What is more patriotic than the U.S.A. Flag flying on a fire truck?
Please support us...
We also reserved the right to cancel or change a scheduled displays.
This due to weather and or circumstances beyond our control.
The OFFICIAL Flag Spokesperson:
FDNY Retired Lieutenant Joe Torrillo
Twice survived the collapse of WTC 2 & 1 on Sept 11 2001


"WE ARE PUTTING NEW GLORY BACK INTO OLD GLORY"
"After 9-11, it was the re-united United States. It brought about a sense of pride and unity and everybody stood together."
"It was a day that people put all differences aside, in racial and religious and ethnic boundries,
and I think we became the re-Unted States of America.
I think the theme to go forward and having this flag fly all across the country,
is that we really need to rethink what the country means to us and what do we mean to the country!"
Shelby Farms - Patriot Lake - Sept 30 2010 - Retired FDNY Lieutenant Joe Torrillo.
The 344th FDNY missing firefighter. Missing and presumned dead for 3 days - found in a hospital in New Jersey.


Mitch Mendler - Firefighter Paramedic: Project Coordinator - Logistics


Image: James Carter SDFD Engineer/Paramedic
"We did not run. The first responders, paramedics, police officers, firefighters, lay persons (second responders),
and the armed forces defended liberty and freedom on 09/11/01"
Unfurling this flag - flying the red, white and blue - will stir the American spirit.

Wayne Louth - American Legion Veteran (Planning - Scheduling)
Make a Secure DONATION OnLine: Donation through CAUSES.com
WORLD MEMORIAL, a 501 c 3 Federal Recognized Public Charity - EIN:48-1292008
All support, donations, and correspondences are welcomed at this address:
WORLD MEMORIAL
3616 Hartzel Drive, Spring Valley, CA. 91977


FDNY Retired Lieutenant Joe Torrillo Twice survived WTC 1&2 / OFFICIAL Flag Spokesperson Phone # 917-863-8656
Mitch Mendler (Project Coordinator - Logistics) Phone # 619-944-7011
Wayne Louth (Project Scheduling - Planning) Phone # 760 270-7455

The Star Spangled Banner Project

Web page design and maintenance by Mitch Mendler E.M.T. Paramedic FireFighter:The WebMaster!

All aspects of this page are copyright © 2010 PublicSafetyNet and unless otherwise stated are the property of thePublicSafetyNet.