The Public Safety Net
"The New York City
FireFighter's & EMS / Police
Widows and Orphans
911 - FUND"
PHOTOS
Over ONE Million Dollars Collected and growing
by fire fighters and police officers / paramedics / E.M.T.'s / Lifeguards
from the Citizens from Americas Finest City, San Diego, CA.
The San Diego Chargers / Cincinatti Bengals Game
09-30-01
Over 400 Fire Fighters, Police Officers, EMT's & Paramedics were on the field participating in the ceremony.
This including one dozen retired FDNY & NYPD personnel.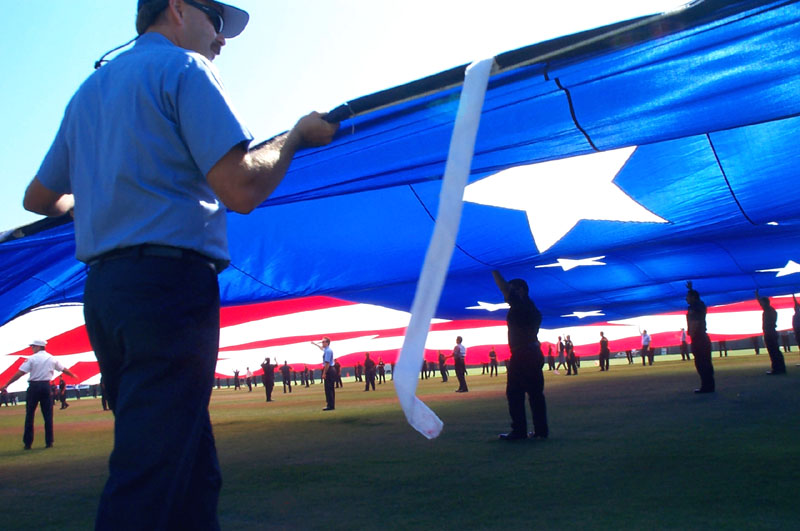 Almost $40,000.00 dollars collected here!!!
Our Retired Brothers from FDNY & NYPD
Now living in Southern California and still part of our family!
Back to The FDNY Memorial page
Contact John Romero for info on "The FLAG" for using it at an event.
John Romero
Culligan Holiday Bowl PO Box 610400 San Diego, Ca. 92160
(ph) 619-283-5808 (fx) 619-281-7947
email: jrom@holidaybowl.com John Romero

Music on this site is best experienced with the Crescendo Midi Plugin. Streaming Crescendo is paid for by this site's administration.



Get your free version here!


Thank you,
The San Diego Fire Fighters & Paramedics and Public Safety Net
---
Web page design and maintenance by Mitch Mendler E.M.T. Paramedic FireFighter;The WebMaster!