The E.M.S. Gallerie and The Public Safety Post office is proud to present the artwork of Allan Albaitis.
As a veteran firefighter with nearly 20 years experience, I have experienced the heady elation of saving a life, delivering a child, averting a tragedy and rewards far too numerous to mention. I have also held the body of a lifeless infant, experienced the loss of fellow firefighters, and witnessed things that people outside of our elite corps can't imagine. Mine are the experiences of a first responder shared by fire-rescue personnel worldwide. My background in art has allowed me the opportunity to portray some of these experiences. I want my fellow workers to say, "Yes, I know that feeling. That's what we do," and a person outside of that reality to say, "Yes, there's so much feeling. That's what they do".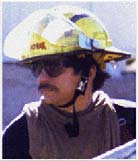 A decorated veteran firefighter and artist, Allan Albaitis has communicated all of the emotions embodied in firefighting. FireArt invites you to learn more about this talented communicator. Read his inspirational story and see his work. Visit his Web Site At FireArt ®.
Allan Albaitis is not simply an artist who has chosen firefighting as his subject matter. He is a decorated veteran combat firefighter who creates art inspired by his profession. Since 1982, Albaitis has been a firefighter with the City of Las Vegas Fire Department. His professional achievements include a 1989 nomination for the distinguished Firefighter of the Year award. In 1997, along with his crew from Engine Company #6 and Rescue 3, he received a Unit Citation of Valor and a Special Congressional Recognition for Heroism and Valor "above and beyond the call of duty" for a dramatic structure fire rescue of a 62-year-old woman. Albaitis' many design achievements include the State of Nevada Professional Firefighter license plate, the LVF&R's Limited Edition 50th Anniversary Badge, and the globally recognized "Card Patch" that has graced the shoulders of all uniformed LVF&R personnel for many years. Applying his background in art and painting, Albaitis burst onto the scene of emerging artists with this series of prints entitled "No Greater Love." The collection includes the powerful "Return to Glory," the thunderous "Guardians" and the spectacular "Millennium Challenge," all of which have been featured in Firehouse, U.S. Art, and Fire and Rescue magazines. Collectors as far away as Sweden, Ireland, Saudi Arabia, and the Virgin Islands have purchased Albaitis' work. The prints within the "No Greater Love" series are limited editions, signed and numbered. Individually, they are technically superb, emotionally connected, and shot from the heart. Each offers an intimate glimpse into the heroic world of the professional firefighter.
With this series, the world of fire and rescue art has been turned on its heels. Allan Albaitis' work transcends any firefighter art to date. Be sure to watch for more outstanding works by Allan Albaitis. E-Mail him for more info on his work and for details on how to obtain these images for your collection.

to the San Diego Paramedics E.M.S. Gallerie

to The Public Safety Post Office
---
Web page design and maintenance by Mitch Mendler E.M.T. Paramedic FireFighter;The WebMaster!

All aspects of this page are copyright © 1996 the San Diego Paramedics and unless otherwise stated are the property of the San Diego Paramedics.