Glory Days
Sport Memorabilia & Photography
Glory Days specializes in professional framed photography
and a recently completed spectacular framed photograph of the
"pre-game FLAG Ceremony" held at Qualcom Stadium on Sept. 30, 2001.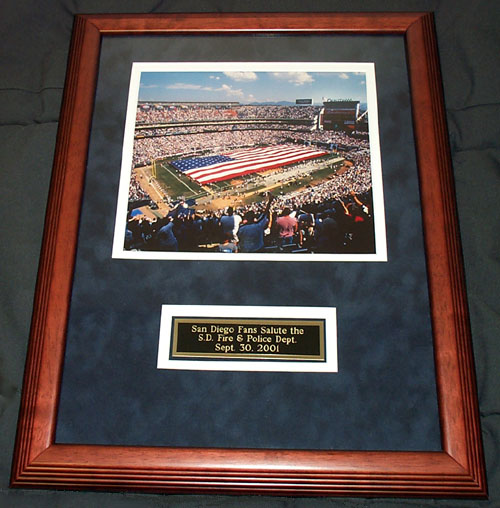 Glory Days is proud and honored to donate 3 (three) 16 X 20 framed photo's to the San Diego Fire Fighters Local 145, The San Diego Fire Fighters Credit Union and Safety Services and San Diego Fire & Life Safety Services Training. An additional framed photo (8X10) was donated to The San Diego Fire Fighters Relief Association.
Glory Days would like to make these available to all fire fighters, paramedics, dispatchers & EMT's involved with this memorial event. Sign up sheets and brochures would be provided at appropriate locations. Additional info could be provided via E-Mail.
These photographs can be veiwed at the locations mentioned above. Payment would be made to "Glory Days" directly and a delivery date for Christmas is Dec 21 at The Union Office in the LOBBY. Delivery time would be 3 - 4 weeks, however to faciliate "Christmas Present requests," ORDERS will be accepted as late as December 13th.
Costs of the framed 16 X 20 is $150.00
Cost of the framed 8X10 is $75.00.
Tax and shipping (USA) in included.
Glory Days would like to thank you for your time and consideration as well as your commitment to protect the city and citizens of San Diego.
Glory days:
Rob Templin
5852 Oceanview Ridge,
San Diego, CA. 92121
1-858-678-0024
E-mail: glorydaysmem@msn.com