Honor | Pride | Respect | Dignity | Courage
Honoring The Fallen
The men and women who gave their lives for the Red, White and Blue,
the Public Safety Personnel who keep us safe,
And the Armed Forces who are preserving our freedom.e
The Land of The Free and The Home of The Brave
UNITED WE STAND
50 States in 50 Months

Back to the Main Page

As of October 6th 2018, the Flag has traveled (by Air, Land and Sea - Car, Train, Plane and Boat) 46,988 miles to accomplish 30 state capitols and additional displays since September 8th 2016.
For more information contact:

Mitch Mendler (Project Coordinator - Logistics) 619-944-7011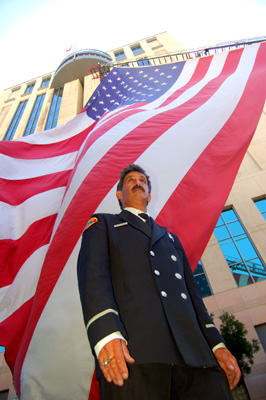 Mitch Mendler (Project Coordinator - Logistics)

Make a Secure DONATION OnLine: PayPal
WORLD MEMORIAL, a 501 c 3 Federal Recognized Public Charity - EIN:48-1292008
All support, donations, and correspondences are welcomed at this address:
WORLD MEMORIAL
3616 Hartzel Drive, Spring Valley, CA. 91977


Web page design and maintenance by Mitch Mendler E.M.T. Paramedic FireFighter;The WebMaster!

All aspects of this page are copyright © 2010 PublicSafetyNet and unless otherwise stated are the property of thePublicSafetyNet.