"The San Diego City Paramedics"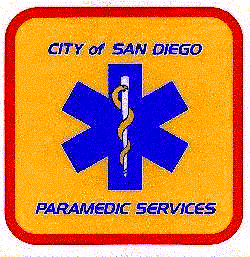 The Quality of the service that we provide,and the trust that we have in eachother, is based on our performance...
Never shall our performance falter!
"Control panel for"
"San Diego Medic 211"
rev. 04-20-99
San Diego Paramedics Mission Statement
To clearly establish and maintain a recognized and respected organization in the community.
To provide superior patient care through broad community inviorment, progressive innovative leadership, education, compassion and technical competence.
To provide a professional and caring enviorment that is honest, loyal, ethical and treats all individuals with respect and dignity.
To be dedicated to the citizens of San Diego, visitors to our city, and our profession.
To pursue these goals in a manner that is responsible to the needs of our patients and the city we serve.
"United we've trained, together we'll serve..."
Photo: Lee Peterson

The San Diego Medic Association was formed in July 1993. In July 1997 the organization was reorganized and the remaining members were absorbed by the Local 145 I.A.F.F. Fire Fighters Union. Paramedics have served this city loyally since 1979.

The S.D.M.A. is still functioning as an entity to represent the current and formerly employed paramedics with issues pertaining to our former employer.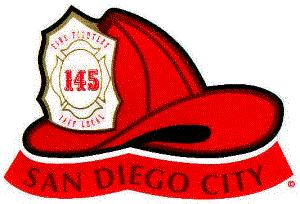 A professional non-profit organization, representing all San Diego City Paramedics and friefighters...
The Local 145: A.F.L.C.I.O. / I.A.F.F. International Association of Fire Fighters.
The city we serve is home to over 1,500,000 people. It is the seventh largest city in the United States and the second largest city in the State of California.
The City of San Diego covers 331 square miles and the Department serves 403.6 square miles. It is currently served by 17, 24 hour paramedic units.10 additional units are staffed on a 12 hour schedual. Four of the units are "Rescue Ambulances" and one is assigned as Special Response Team, (The S.R.T. Team) and works with the S.W.A.T. Team at the San Diego Police Departmet and the F.B.I. when needed. They also participate in high angle and water rescue. Additional units are staffed by Rural/Metro Corporation: They staff one 24 hour unit, which is dedicated to Lindbergh Field, Paramedic Rescue Unit 63, San Diego International Airport. And we staff anywhere between 6 and 12 more units daily throughout the week depending on the needs of the system. All of the 43 Engine Companies are staffed with a paramedic and respond along with ambulances on 90 % of the requests for help.
This link will provide a basic overview of our system and staffing. Obviously this "plan" is critical to the needs of the public and our city and is updated, monitored, and re-evaluated daily. Major re-designing is done periodically and is well thought out prior to implementation. Stats are considered by numerous committees usually made up of chiefs, base hospital nurses, the County Emergency Medical Services, field personnel and dispatchers.
Unit designation
Unit deployment
Unit staffing
Note:
All responses are preformed by ALS ambulances regardless of the dispatch. Some patients are transferred to BLS units (private ambulance services) for destinations not approved by The County EMS like Physician offices and clinics. However, recent protocols have been suggested to increase Paramedic dispositions to non 24 hr MD staffed Primary Emergency Rooms and clinics.
43 A.L.S. Engines:

One Fire-fighter paramedic and 3 Fire-fighter - EMT's.
39 staffed with four personnel. 4 staffed with 3 personnel and accompanied by a (task force) A.L.S. Dual Role ambulance. (See below)
Truck Companies, Brush units, Haz Mat units, Crash & Rescue Units not included.

25 - 27 ambulances on the raod as follows:
5 A.L.S. Ambulances:

Single Role Units staffed with one paramedic and an E.M.T.

5 A.L.S. Ambulances:

Dual Role Units staffed with fire-fighter paramedics

4 ALS Ambulances:

DUAL Role units staffed with two fire-fighter paramedic & an EMT

4 A.L.S. Rescue - Ambulances:

(equipped with heavy rescue tools): DUAL Role units staffed with one fire-fighter paramedic and a fire Captain.

10 Peak A.L.S. Ambulances:

Single Role Units staffed with one paramedic & one E.M.T.

6 ALS Ambulances:

(staffed during the Non-Peak / Off Peak hours): Single Role Unit staffed with one paramedic & one E.M.T.

2 additional Off Peak A.L.S. ambulances:

Single Role Unit staffed with one paramedic & one E.M.T.
---
Units are dispatched under this criteria:
Level 1: ALS Engine and ALS Ambulance "Code 3" response
Level 3: ALS Ambulance "Code 3" response
Level 4: ALS Ambulance "no Code" response
In the future other criteria might be established such as:
Level 2: Both an ALS Engine and ALS Ambulance, the closest unit responding Code 3
Level5: General Transport or preschedualed ICU transfer
---
Transports and dispositions are manged with the criteria as follows:
Code 10: Life Threatening
Code 20: ALS Intervention (IV, Rx, ect.)
Code 30: ALS Monitoring ( ecg, Sa O2, Blood Sugar)
Code 40: BLS Transport only ( C-Spine, Oxygen)
Code 50: Alternative transport was appropriate)
Cancelled: Cancelled prior to scene access via P.D. or Engine co.
Dry Run: AMA, 11-44 (dead on scene) Narcotic OD that leaves scene w/o AMA)
---
Our EMS System: This new model of emergency care delivery can best be described as "High Preformance" versatile, adaptive and responsive. We are as paramedics more accountable and responsible than ever before.

E.M.S. is the crossroads of Public Health.
We are progressive and innovative.
---
"On July 1, 1997, San Diego Medical Services Enterprise (SDMSE) began providing emergency medical service in the City of San Diego, and San Diego Fire and Life Safety Services changed forever its service capabilities and in many ways its organization and culture. Based on the city-approved EMS system redesign, WE changed the emergency medical services delivery system for the sixth largest city in this country in a 16 hour time span. WE literally took the old system out and reconfigured major components:"
Fire communications now combines both fire and EMS call-taling and dispatching under a completely new call triage system.
All engine companies have full ALS capabilities with a Firfighter-Paramedic aboard. All engines respond in 8 minutes or less criteria.
Ambulance units are now staffed with one EMT and one Paramedic. All ambulances respond in 12 minutes or less criteria.
The services are being provided by the first-ever true public-private partnership in the EMS industry.
"I say that WE changed the system because, even though only a few of us wrote the proposal to win the bid process, it will take ALL of us performing our duties to the best of our abilities to ensure our success. The future of the City of San Diego's EMS system, the SDMSE partnership, and virtually Fire and Life Safety Services, is now in OUR hands - as it should be."
Jerry Cannon, EMS Chief
---
Mission Satement
"In Partnership with the community The San Diego Medical Services Enterprise will provide innovative and quality medical care."
This unique "partnership" otherwise know as The San Diego Medical Services Enterprise, Limited Liability Corporation was formed by an agreement between The San Diego Fire and Life Safety Services and Rural Metro Corporation form Scottsdale Arizona. The new partnership will operate and manage the paramedic program under a new model of emergency medical service delivery designed by consultants; Fitch and Associates.
There are approximaetly 180 full time paramedics in our work force. Some are single role paramedics, some are dual trained as fire fighter/paramedics and some are working out of class as E.M.T.'s. We treat people from the beaches to the foothills of the mountains and from the suburbs to the urban city. We transport sick and injured people from the busiest border crossing in the world at Tiajuana and San Yisidro, the homeless from the streets, and from some of the most affulent communities in the United States. We take pride in our work and our profession. We strive for excellence.
We are America's finest!!!

---
San Diego City Paramedics Bylaws
Preamble
We, the full time San Diego City Paramedics are dedicated to providing the highest level of emergency and episodic care to the citizens of the community we serve. We accept the rigors of our profession and know that our vocation is mentally and physically demanding and requires true concern for all patients regardless of their race, creed or financial status or mental condition. We also belive that our members must have basic job security, safe working conditions and adequate compensation in order to fullfill our awesome job description. We, therefore resolve to promote the advancing of the best interests of our membership in education, legislation, to secure protection, harmonious action, improve working conditions and compensation, and generally act as advocates for our medics who have dedicated their lives to advocating the highest level of care to others.
In considering any direction or promoting any cause we shall put any such Association position to a three-way test as follows:
Will it be good for community care?
Will it benefit our members?
Is it the truth?

Check out two images of The San Diego City Skyline:

Sunset view

Reflection in The Childrens Pool
Veiw a MAP of our city: The San Diego Fire And Life Safety Services Map
To meet your local paramedic and find out who he or she is and what we do Click on the link here: Meet your local PARAMEDIC! Here you can find a profile of a local paramedic, the drug and procedures in his or her cache, the system they work in, the training and equipment, and a detailed history of the begining of E.M.S. and paramedicine.
---
E.M.S. Gallerie A Virtual E.M.S. Art Gallerie
Select associated "Medical Links." Go to The Virtual World of associated Pre Hospital Medical links: S.D. Paramedic Links

---
---
Go to our 12 Lead E.C.G. program and study link.

---
San Diego Medical Dispatch is now ON-LINE... 9-1-1, Do you have an emergency???
Also, here you will find inforamtion on new Emergency Numbers...
---
The Medic News On-Line: A new Local, National and International "News On-Line Service" provided for local paramedics or anyone interested.
---

Obtain the physical mail addresses and telephone numbers of:


San Diego Fire & Life Safety Services.
The San Diego County Paramedic Association.
The California Rescue Paramedic Association.
The California Emergency Medical Services Authority.
The County of San Diego, Department of Health Services,

Division of Emergency Medical Services.

Send E-Mail to: The San Diego Paramedics

Contact our Medical Director send E-Mail to: Dr. Jim Dunford.

Contact the Medical Director for the County of San Diego, Department of Health Services, Division of Emergency Medical Services; Mel Ochs M.D., F.A.C.E.P.

Contact the Paramedic Program Manager (Emergency Medical Services) for the City of San Diego; Patricia Nuñez


Brief Disclaimer.
---
Web page design and maintenance by Mitch Mendler E.M.T. Paramedic;The WebMaster!


All aspects of this page are copyright © 1996 The San Diego Paramedics & or S.D.C.P.A. and unless otherwise stated are the property of the San Diego Paramedics and or the San Diego County Paramedic Association.