San Diego City System Status Plan: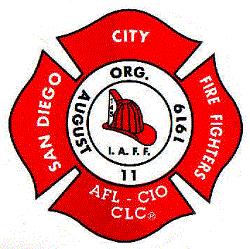 Unit deployment: will be updated A.S.A.P
Unit staffing: will be updated A.S.A.P
Our System:
Our system status design is a progressive process with an innovative and creative plan. With changing pre-hospital management funding and payment, E.M.S. programs have had to be tailored and re-organized. And in most cases down sized to some degree. Change is usually met with some resistance, but as always it brings improvement in time. Our system was effective but not cost efficient. With a lot of time and effort by a large group of very talented and knowledgeable people, this is what we will have as an operating base for the inception on July one, 1997. However, flexibility and versatility will be inherent and as the system demands and evolves, more changes will be made...
Our system works on a basic concept:

TEAMWORK!
"Teamwork with all crew members, dispatch, ancillary personnel and departments and the Rural Metro crews."
If we had to come up with a statement, it would be:

Adaptability...
Or, rising to the need of the challenge, just as the fire dept. has done for years with hazardous materials, E.M.S. and other tasks requested by the public and the city management.
Response adaptability
Some engine houses may have 3 vehicles to respond in pertaining to the nature of the response. Of course if a medical aid is dispatched, the crew will take the engine. At station 24, 32, 37, 39 the crew will respond in both an engine and an ambulance for all medical aids and rescue traffic responses. If a dispatch for a brush fire is requested, or a truck, then that vehicle respectively will be used. All companies are cross trained in various skills and all suppression personnel are trained in structure and brush fire and truck usage and medical aids. Whereas some companies are specialty houses and are additionally trained in heavy rescue and hazardous materials and explosive devices. Likewise, a company that is trained in haz mat will obviously take that vehicle when dispatch accordingly.
Unit ID designation:
note: The Rural Metro unit ID's are the 60 and 70 series. These units are staffed for 10 hours per day staggered throughout the 24 hour clock to augment the system. They begin their shifts at Station 28 and move about the city where needed for responses and cover. Anywhere between 6 and 12 units are staffed depending on the day and the hour.
Single Role Paramedic Units:
Staffed with one paramedic and one E.M.T. (usually trained as a medic working out of class)
Twenty four hour staffed
Medic 12
Medic 18
Medic 20
Medic 29
Medic 33
Dual Role Paramedic Units:
Staffed with onbe firefighter paramedic and one E.M.T.
Medic 124
Medic 132
Medic 137
Medic 139
Dual Role Paramedic Units:
Staffed with one paramedics
Medic 9

Special Rescue Team

(Swat Missions)

Medic 11
Medic 21
Medic 36
Medic 26
Rescue Paramedic Units:
Staffed with two fire fighter/paramedics, one is a captain.
Equipped with heavy rescue tools and repelling gear
Resuce Medic 30
Rescue Medic 31
Rescue Medic 38
Rescue Medic 41
Field training Units:
Medic 9
Medic 20
Medic 32
All paramedics rotate within their Batallion for ambulance assignments on a 4 shift basis every quarter
Transport adaptability
These units will respond as accordingly. For dispatch purposes all vehicles will respond, but as transport dictates, all crew members including the captain may be on the ambulance.

These units obviously cannot be use as move up or cover units...

The additional unit ID designation (124) indicates when extra staff is on the company and the ambulance can be utilized as a stand alone apparatus.
Medic 24 (124)
Medic 32 (132)
Medic 37 (137)
Medic 39 (139)
As stated above these units become stand alone ambulances when an extra crew member is staffed in the station. In that situation the unit ID becomes 124, 137, ect.
Unit Deployment
Units are positioned in various locations throughout the city. These locals are strategically placed according to geographics and system hystories. Some units are 12 hour days and 12 hour nights split to make a 24 hours unit. This due to the busy nature of the district in which they are stationed.
Unit Staffing
Ambulances are staffed with one paramedic and one EMT with the exception of the rescue amblanaces. These ambulances respond to rescue traffic accidents, and cliff rescues and water rescues. Medic 36 is the Special Response Team. It is also staffed with two paramedics. This unit responds to SWAT incidents.
Brief Disclaimer.
---
Web page design and maintenance by Mitch Mendler E.M.T. Paramedic FireFighter;The WebMaster!


All aspects of this page are copyright © 1996 the San Diego Paramedics & or S.D.C.P.A. and unless otherwise stated are the property of the San Diego Paramedics and or the San Diego County Paramedic Association.