welcome to the WORLD MEMORIAL museum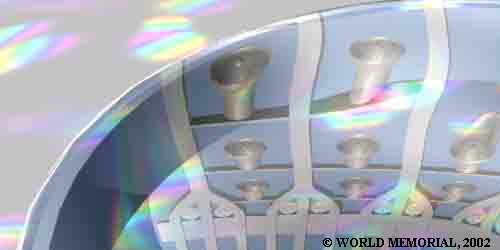 ---

Current Touring Exhibits
9/11 BEAD QUILT collection by Rosa Meyer
HEADLINES in HISTORY collection by Louis Nevaer (e-mail) of Mesoamerica Foundation
HOPE - Joy of Selflessness, WORLD MEMORIAL centerpiece (above) by sculptor Robert Landry
MISSING PERSON flyer collection by Bronston Jones and Louis Nevaer (e-mail)
ROS honoring FDNY, NYPD, EMS, Port Authority, Airline Crews, and all killed on that infamous morning
WTC Historical Brochure, collection by Tina Batinic
(check for Tour Dates and full list of Artifacts)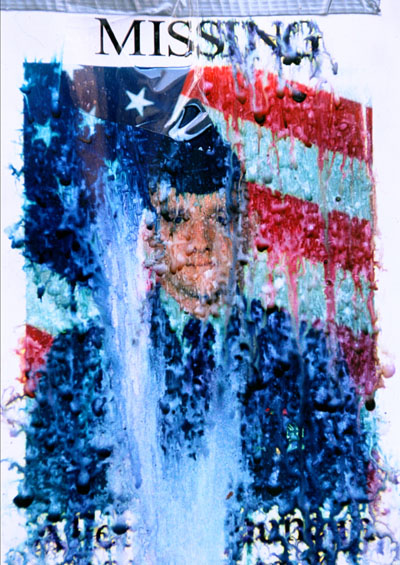 Last seen at the World Trade Center, September 11, 2001

WM Memorial Museum
Features below were created by WM officers and contributors from around the globe
Modern facility would contain: WTC architectural models, multi-media presentations, testimony auditoriums (varying from 20 to 1,000 seats), exhibits, and many historical artifacts...

Museum Lobby
Located directly under the WTC memorial fountain, an underwater skylight projects a curtain of dancing lights
Reflecting from the honor roll above, three thousand names paint the Museum floor and walls

Last Seen at WTC™
Missing Person Flyers, flowers, and personal effects were deposited in makeshift memorials all over the world
WORLD MEMORIAL applauds curator Louis Nevaer for protected these historical artifacts
UPI photographer Chris Corder and Bronston.com captures the heartbreak at and Bellevue Hospital and NYU
See and touch: "Hopelessness, Loss and Despair"™


Texture of Terror™
Cross-section of the devastation, where rescue workers uncovered 20 stories of
warped 18" beams, desks, and debris pancaked into the space of just 20 feet.
Markers identify each WTC floor.
A powerful exhibit that touches all.

Lost & Found™
Plastic ID keys (representing victims, rescuers, leaders and survivors) are given to each Museum guest
Find out about the fate of the individuals as you advance through the museum exhibits

"Where Were You on 9/11?" ™
Living Registry
Visitors can write their condolences on an enormous ash blackboard
Their messages are daily recorded in time-elapse video

Release of Souls™
Close your eyes and visualize 3,000 thousand of souls breaking free at the moment of WTC collapse; filling the sky with lights, color and hope. Artist Kathleen Tonnesen captures that emotion in a pair of ten-feet-tall paintings called the Release of Souls.

It is a journey of healing.
In front of the paintings two empty spaces mark a place
where you expect to see your loved one.
But today, no matter how hard you look...that space remains empty




Rescuers, Heroes, Survivors, and Search Dogs
Testimony and lecture series from 5,000 survivors, some disfigured for life
Ash covered fire truck tribute to the 343 firefighters lost
Ticker tape projects the names of the rescue workers killed, while trying to saving others


Rubble™
Ground Zero debris and ashes would be on display in a large sealed case
ge.nos 0911b by Swedish artist Leif Boman, exhibits earth samples from 80 countries that lost citizens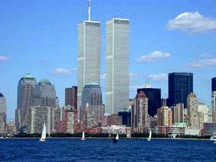 Virtual Towers™
Computer generated 3-D virtual reality of the WTC towers, prior to 9/11.
In the visual effects you would be able to "walk" through the building, halls and individual offices.
On the desks, walls and windows you can see the victims' family photos, posters and beautiful NYC.
At different levels you gain keys to find out about WTC, tenants, offices, victims, rescuers and survivor narratives. Finally, when passing a mirror - you see the reflection of your "guide"

WTC Architectural Grandeur
The tallest building in the world up through 1976
Surpassed only by Chicago's Sears Tower and Petronas in Kuala Lumpur, Malaysia
1,360' Twin skyscrapers, 110 one-acre floors and 97 passenger elevators
10 million total square feet of office space and home to 50,000 employees
Nearly 100,000 daily visitors; corporate executives, vendors and tourists
7 years to build; August 1966 - April 1973, by Chief Architect Minoru Yamasaki
16 acres, 7 buildings and grand plaza, modeled after Venice's Piazza San Marco
Sky lobbies, elevator banks and strong construction may have saved 70,000 lives




WTC Simulator™
Take a simulated, 58-second elevator ride to the top floor of 2WTC
Carefully peek over the edge; see and hear the NY traffic way below
Get a 360° view of Manhattan, Statue of Liberty, Ellis Island and NJ
110th Floor Simulator and IMAX® documentary reenact the infamous day
Fly over Central Park, Times Square and back to the helipad in a motion-simulated helicopter ride through NYC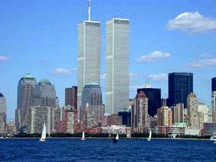 Attack on New York City
Events occurring September 11th; and the toll on dozens of nations
World horrified by live coverage of the aircraft impacts and WTC engulfed in smoke
People jumping to their deaths to escape the 2000 degree fireball and eventual implosion of the twin towers
No survivors, even after 10 days of rescue efforts
Ground Zero fires burned for 100 days; finally extinguished on December 20th

The sheer magnitude hides the individual suffering and families' anguish
Ordinary people: working, providing for family; loving, creating jobs, contributing to world economy.




Attack on Washington
0940 EST, Pentagon directly attacked and penetrated; 189 killed


Shanksville - Fight for Survival
The passengers, crew, heroes, photographs, stories and phone calls
White House and US Capitol were prime targets

Terrible Loss of Life
82 nations immediately caught up in the catastrophe; one of the highest death counts in single hour
3,000 Killed and entombed by impact, smoke, fireball, and falling debris
Most crushed in seconds, as millions watched the skyscrapers collapse
Some faced an unimaginable ultimatum: jump or be burned alive; and some did not have a choice
Some fought back; unfortunately Flight 93 crashed in rural southwest Pennsylvania, 45 people on board
200 miles away at the Pentagon, 189 civilian and military members perished in that simultaneous attack




3,251+ Children lost a mother or father in the attack
Recreational park and programs dedicated to the world's future leaders
Nursery for the children of grievers and WORLD MEMORIAL Museum visitors
Indoor and outdoor playgrounds. Supervised, secure and web-cameras
School field trips and lecture series directed to our younger audience

Financial Market Crisis
Over twenty-million square feet of (International HQ) office space destroyed
Worldwide banking, currency, financial instability and profiteering (by the terrorists)
Key factor in stock markets collapsing 17 trillion dollars




WTC Vision
Key employees killed, maimed or unable to get to work for days
Corporate expertise, vision, computer equipment, databases and records lost forever


Disruptions
Electric blackouts for days; silence of many TV, radio and mobile phone transmissions
Telephone switching facilities damaged; Stock trading electronic network severely damaged
Evacuation of entire lower Manhattan
North American and British Aviation grounded; passengers, executives and mail stranded worldwide


Works of Art
Original pieces of artwork destroyed; 150 million dollar estimate
WORLD MUSEUM will exhibit photographs and reconstructed art pieces
---

TERRORISM in our lifetime
Albania, Bosnia, Cambodia, Herzegovina, Indonesia, Israel, Oklahoma, Philippines, Saudi Arabia, Sierra Leon, Somalia, Sri Lanka, Sudan, Rwanda , USS Cole, and WTC Bombing, 26 February 1993
Sole purpose of destroying democracy and killing innocent civilians

What Precipitates Violence?
Not a religion, not a culture, not a lifestyle
(Remember Oklahoma City Bombing)
One word... HATRED




Afghanistan
Men shot at whim, women stoned, and children starved for decades
Health care non existent, one of the lowest life expediencies in the world
A quarter of Afghanistan children died before age five
Women, Sikhs and Hindus evicted from professional careers, including medicine


Taliban
Life has little value
Fundamentalist rule; a narrow view of 30,000 elite (out of 1 billion plus Muslims)
At war for 22 years; hatred and normalcy of continuous fighting

Zero tolerance, Iron-fist rule through fear, lynchings, public beatings and executions
No reading, singing, laughter, applause, music, TV, photographs or pets
Limited education; rifle training and mandatory memorization of the Koran (even then, only boys)
Identification and persecution of ethnic groups, religion, women and cultures
Buddhist temples and historic artifacts destroyed, even against international protest


Al-Qaeda & Other Terrorists
The events, names, photographs, background and training of the 19 hijackers
Established terrorist networks and camps around the globe; penetrated 60 countries
Map with hotspots




Tomorrow's 9/11
Procurement and development of weapons of mass destruction and cyber warfare
Biological Warfare, anthrax threat penetrated NYC, US Capitol and Florida (domestic terrorism)

Documentaries

CBS 9/11. The crisis from firefighter eyes, filmed by Jules and Gedeon Naudet


Portland-based journalism team interviews 20 various artists, sampling their projects ranging from printmaking, to painting; animation to web design; illustration to photography; video art to new media installation; collage to murals; and poetry to music. This time capsule captures the feeling that swept the world.
Illustrating the important role that artist play in our society.


Restricted Exhibits (not for minors or weak hearted)
In the magnitude of shear numbers, we loose sight of the individual suffering
Just imagine being one of the victims or survivors faced with implosion, screaming, smoke, panic, fire, jumping, trapped and being crushed:

Rescue worker, AP wire


Testimony of security officer exiting WTC #1 just as first aircraft strikes


Canine Veterinarian


"Gardener in the garden of the dead," Raking Fields, NJ.



The Investigation
Tracking down the hijackers and criminals that target and destroy our freedoms
Air Traffic Control, flight data recorders, DNA, witnesses, and flight instruction centers
The first victims of 9/11; passengers and crew aboard the 4 jet liners

Other Events that "Stunned Our World"™
World War One
Great Depression, beginning October 29th, 1929
World War Two, Holocaust, Pearl Harbor, Normandy Beach and the Atom Bomb
Cuban Missile Crisis, October 1962
Assassination of US President JFK and young John-John saluting the horse-drawn casket
First Man on the Moon
Challenger Explosion
Indian Ocean Tsunami & Hurricane Katrina


Enduring Freedom & UN War Tribunal


Reconstruction of Lower Manhattan




Guidance for Future Generations
Eleventh Of September, by poet: Roger J. Robicheau, was read before the US Senate
Congressional Record, Article 27 of 53, September 4, 2002