Online PRESS KIT (New 30 Page PDF, E-mail for Extras)
Additional photos and video clips on ROS Media Page
PIO Contact: Mitch Mendler (BIO), Virtual Office, 619-944-7011, FAX 212-202-3984
FOR IMMEDIATE RELEASE
The mission - WORLD MEMORIAL is to honor those killed from all corners of the globe September Eleven, by touring 9/11 Artifacts and Artist, to save lives through Children's Public Safety, and promoting tolerance and truth among all nations and peoples.



WORLD MEMORIAL Established, September 14, 2001
The WORLD MEMORIAL concept was incubated by volunteers; serving at the APA UNION Crisis Center. Warren Clymer, Art Director of The Godfather, joined the cause by designing the WM theme. By the end of September, the organization had debuted on the World Wide Web. Consolations 9/11 images, and memorial ideas (incorporating WTC iron, museum, education center and park) poured in from around the globe.


This page has been reformatted in chronicle order.
Welcome to visit the source document (TOUR page).

14-19 September 2001
The WORLD MEMORIAL concept was incubated by volunteers at the American Airlines Crisis Center a few days following the tragedy. Sketches were drawn-up incorporating surviving WTC iron structures, museum, education center and park. Subsequently, two hundred professionals, architects to zoologist, from around the world joined this worthy cause.

29 September 2001
WORLD MEMORIAL débuts on the world wide web at WTCim.org (WTC International Memorial)
11 October 2001
Emmy winner and 35-yr resident of Manhattan, Art Director Warren Clymer (The Godfather) designs the WM theme:
15 October 2001
Several staff volunteers are called to U.S. Military service. Shipping out on a moment's notice, anywhere around the world,
added an extra challenge to the WORLD MEMORIAL creation.

11 November 2001, Veteran's Day
WORLD MEMORIAL integrates online multimedia presentations from various producers including Ricon Designs, Alberta, Canada.

28 December 2001
WORLD MEMORIAL is presented to New York City Mayor's Office.




2002 International Forum
While flying around the globe, key leaders joined forces with other motivated individuals from two dozen countries.
A team was forged to design a Ground Zero Memorial based on wishes received from the WM International Forum.
Subsequently, two hundred professionals, from architects to zoologist, from all corners of the world, joined this worthy cause.
Throughout 2002, WORLD MEMORIAL corresponded with thousands of people and the NYC Mayor's Office,
solely through the Internet, fax, phone and occasional ham radio.


11 January 2002
WORLD MEMORIAL moves to permanent site: www.World-Memorial.org
and mirror Websites opens in Great Britain and Australia.
12 February 2002
WORLD MEMORIAL applies for US Service Mark.

11-21 March 2002
Director tours around the world to promote and solicit ideas for a WORLD MEMORIAL.

30 March 2002
Partnership with AMERICAN-MEMORIAL; honoring airline employees and passengers killed 9-11.

May-August 2002
Members of the WORLD MEMORIAL staff serve three months overseas in Germany.
23 August 2002
Six WORLD MEMORIAL Museum designs are submitted to MEMORIAL CIRCLE team.

11 September 2002
Staff members attended memorial ceremonies at Ground Zero, Pentagon and Shanksville, Pennsylvania. WORLD MEMORIAL presents an anniversary update, including designs from artist Robert Landry and several architects. Press Releases sent to New York City leaders.

1 October 2002
Artist Shari Moon and animator Matt Jackson join the team. Community leaders near Texas-based American Airlines corporate headquarters have pledged their support to build the first national aviation AMERICAN MEMORIAL in the historic district, Main street Grapevine. Following suit, other memorials are to be constructed at Kennedy Airport, Dulles, Shanksville, Chicago O'Hare (home office of United Airlines) and Ground Zero.

11 November 2002
Sculptor Robert L. Landry exhibits the WORLD MEMORIAL centerpiece in Michigan for one month expo. Matt Jackson's CAD images brings life to the WTC Memorial "Survivor's Corner."

11 December 2002
WTC Wall Memorial concept published on CNN Special Design #14



2003 Events
Out of hundreds of organizations, submissions and requests, a welcomed call came form an unlikely place.
An artist up in Vancouver inspired her Canadian community to build an 18' tall Memorial as a gift to America.
After seeing it in person, our cadre immediately decided that the Release of Souls had to go on tour.



10 January 2003
WORLD MEMORIAL initial concept meeting hosted by PERKINS-EASTMAN Architectural Firm, NYC

26 February 2003, New York (AP)
A complex of angular buildings and a 1,776-foot spire designed by architect Daniel Libeskind was chosen as the plan for the World Trade Center site. The new building is planned to be taller than the trade center towers, which briefly stood as the world's tallest at 1,350 feet. Libeskind's tower also would surpass Malaysia's 1,483-foot Petronas Twin Towers, the tallest buildings in the world.

28 April 2003
Bunting and Coady Architects accept the WORLD MEMORIAL & LMDC challenge

30 June 2003
Three independent WORLD MEMORIAL teams of artists and designers from Czech, Canada and New York turned in individual proposals to Manhattan Development Committee competition.

11 September 2003
News Article, Maple Ridge Public debut of the Release of Souls Memorial.
Release of Souls sculpture and song were completed for their début in Maple Ridge, Canada. Schulmerich Carillons. sent an endorsement package to Mr. Kevin Rampe, President of LMDC and latest CD-ROM was forwarded to the Libeskind library.

7 November 2003
Hosted by 39 Canadian Brigade Group "Canada's Army of the Far West," Xenex Labs and Starbucks®, Artist Kathleen Tonnesen presented the Release of Souls sculpture to an audience of one thousand supporters. The 18' monolithic Memorial was on public display through 12 November at the Seaforth Highlanders of Canada Armory 1650 Burrard Street, Vancouver. The opening event included exhibits from local artists, including Reflections (painted by Fire Fighter Jim Nedelak), Glenda Rae's Darkest Night performance and the Release of Souls concert.
Program WORD Program PDF
Port Authority Endorsement
News Article, Maple Ridge, B.C.
2004 Events
11 January 2004
WORLD MEMORIAL CD-ROM is submitted to US Library of Congress with thanks to the nonprofit organization: 9-11 Digital Archives.

19 March 2004
WORLD MEMORIAL Producer Kathleen Tonnesen (604-463-9102) announces the Release of Souls North America Tour. September 4th, Los Angeles will host the ROS concert in Pasadena Hall and San Diego will host the event in Balboa Park, September 11, 2004. Subsequent concerts are being planned for Mexico, Las Vegas, Arizona, Chicago, Toronto, Ottawa, Washington D.C., and Shanksville, Pennsylvania. The final memorial dedication will be held in New York City on September 11, 2005. A full Honor Guard detail and ROS Concert will accompany the memorial exhibit with hopes of raising funds for International emergency services, canine SAR and 9-11 Survivors. The Release of Souls.

11 April 2004
WORLD MEMORIAL partners with GEAR UP.


27 July 2004
WORLD MEMORIAL visits Verdin Bells, the world's largest articulating bell (World Peace Bell).




Friday, September 3, 2004
Pasadena Civic Auditorium, 6-9PM
Release of Souls 9/11 Memorial concert kicks off the USA tour from Pasadena, CA.
LA Concert Poster
News Article, eMediaWire, August 16, 2004
News Article, Pasadena, August 3, 2004
Erroll G. Southers, Master of Ceremonies
Warren Clymer, Exec Producer (Art Director, The Godfather)
Brett Hill, Project Manager, South Pasadena IAFF Local President
Website by Fire Fighter Brett Hill



September 9-11, 2004
WORLD MEMORIAL helps Gear Up Foundation with their Ride of the Americas during the three days of ceremony to the Pentagon, Shanksville, and finally Ground Zero. GEAR UP is the only organization to be invited for a third year in a row to Ground Zero. Our team coordinated with semi-truck Rolling Memorial to provide the motorcycled escort.





September 11, 2004, Balboa Park, Organ Pavilion, 5:30-9:30 PM
ROS Concert Program (PDF)
ROS Concert Poster
Master of Ceremonies: Steve Lewandowski
Guest Speaker, Erroll G. Southers, California State Director of Homeland Security
Ceremony to Honor Seven Paramedics
and Rescue Dogs Sirius and Bear
Project Manager - SDFD Mitch Mendler, Website, 9/11 Memorial Coins
Assisted by Jack Toale, FDNY Retirees of California, President
FDNY Retirees of California Dinner, San Diego FIRE HOUSE Museum


September 13 - October 27, 2004
WORLD MEMORIAL (40-foot) shipping container is loaded onboard the Aircraft Carrier.
Rear Admiral "Mac" McLaughlin (USS Midway Museum CEO) officiated the military ceremony to add 125 Pentagon names to the Release of Souls exhibit.

"The more I studied the entire display, the more deeply it touched me. I'm thankful that this wonderful tribute is being traveled around the country for the sake of those of us far away from New York , allowing us to focus on something tangible to go along with our feelings about this tragic event in our nation's history."
Peggy Vaughan of www.dearpeggy.com, USS Midway Guest



2005 Events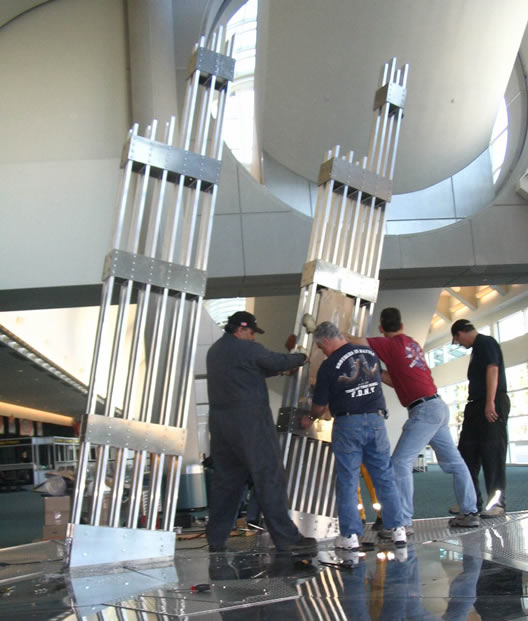 31 January - 4 February 2005, San Diego Convention Center
Fire House WORLD hosts the WORLD MEMORIAL (Booth #2040-44),
Release of Souls exhibit (in the Lobby) and Gear Up Fire Academy project.
Official blessing on February 4th by Fire Chaplain Rabbi Gottesmen, San Diego Fire Rescue
Distinguished Speakers


June 4-8th, 2005 , Los Angeles Convention Center, www.lacclink.com
George Fern Company Union members, LAFD and ROAD ONE Trucking assemble the ROS 9-11 Memorial.
ROS Memorial hosted by FDNY Fire Fighter (Ret.) Danny Noonan, FDIC Board of Directors.


September 10, 2005
LAFD Fighters/Paramedics and September11 Families hosts the WORLDMEMORIAL
Missing Person
flyers and
Headlines in History
collection at Station #88. This is the exhibit's first appearance on the West Coast.

September 11, 2005
President of FDNY California Retirees, Jack Toale, rings the SDFD Fire Bell in honor of fallen comrades. Military ceremony includes roll call of 125 that died in the Pentagon.
Thanks to the help of WM Contributors, WTC artifacts, HEADLINES IN HISTORY and the original MISSING PERSON Flyers collection makes it debut in San Diego on the 4th anniversary of September Eleven.


September 17, 2005
WORLD MEMORIAL presents Missing Person flyers, Headlines in History, and the 9/11 Bead Quilt to several thousand visitors at San Francisco's Aquatic Park.


September 17-19, 2005
ROS Producer was invited to help the BSAR foundation
(aboard USS Intrepid) and meet with FDNY, PD, USO, NYS and other NY organizations in preparation for the 5th year anniversary.



2006 Events
In addition to volunteering our time, the ROS Memorial and 9/11 Art Collection (valued at over $250,000) is provided at NO charge. All we ask for is logistic costs for your event. Professional services are turn-key or a-la-cart. Based on your community needs, this can range from a small exhibit ($5,000) to a full concert ($67,000 plus).

WORLD MEMORIAL is a nonprofit organization; however, the amounts above represent real-world expenses of logistics and maintenance (usually donated or at a fraction of commercial services). One such discount service Katon Productions, which surveys your needs, contacts the performers, works permits and provides a turn-key experience. WM Officers do NOT receive a salary. From national donations, we have purchased a fleet of vehicles to include: 60-foot Semi trailer, 1984 Modular Ambulance, and 40-foot semi-trailer. We are proud to have partnered with ROAD ONE Trucking, who generously provides a tractor, driver and expertise. Corporate documents, IRS FM 990, itemized estimates, and references are available on request.
For more information, contact SDFD Mitch Mendler
Please visit the TOUR page for latest info

MEDIA ARTICLES
GPS Tracking the Patriot Flag, Ryan Horban, June 2011
Sacbe, Mitch Mendler, July 2008
Chief Star, (PDF) May 2008
Letter to JEMS Magazine, June 2005
JEMS Magazine, by Ann-Marie Lindstrom, April 2005
Fire Chaplain Rabbi Aaron Gottesmann, SDFD and SDPD, by Jenny Diamond, June 11, 2005
Rebuilding the Souls of Our Nation, San Diego State University DAILY AZTEC, September 14, 2004
San Diego 9/11 Memorial Concert, Balboa Park, September 11, 2004
WORLD MEMORIAL Release of Souls Concert, Pasadena Star, September 4, 2004
Canadian Release of Souls Project, The Bugel, September 1, 2004
Local 911 Memorial Hits the Road, Maple Ridge Times, August 22, 2004
A Gift for the Human Spirit, journalist Robert Prince, The Bugel, September 3, 2003
Memorial set to be Released on 9/11, Metalworks & Dave Rouleau, Maple Ridge Times, September 1, 2003
News Article, Maple Ridge Public debut of the Release of Souls Memorial, August 2003
WTC Wall Memorial concept published on CNN Special Design #14, December 11, 2002